Fine Art/Panels, Everything Else!
---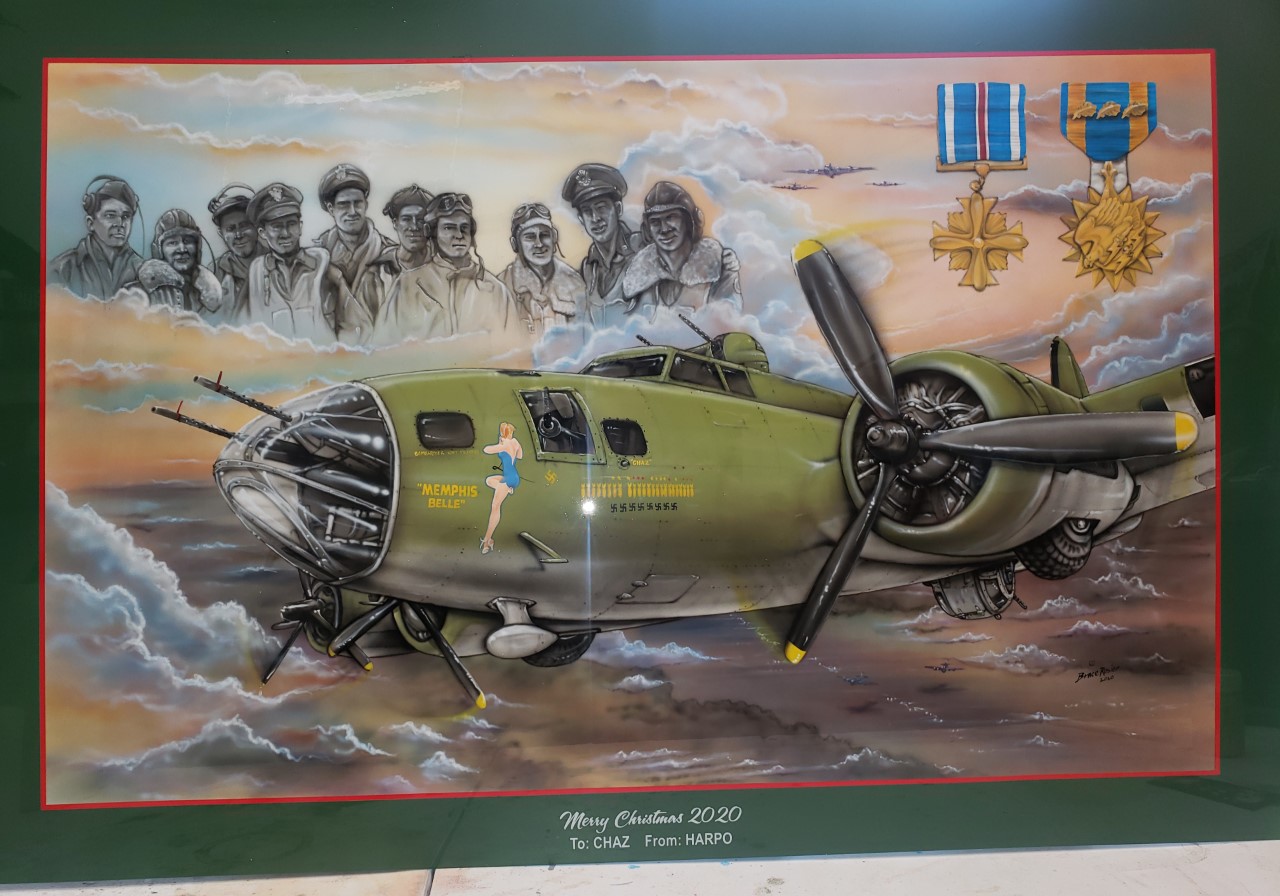 This Panel was commissioned by a customer for a Christmas Gift to his WWII Enthusiast Son!
I can do panels like this on metal and cleared with automotive clear. Ask what I can do for you!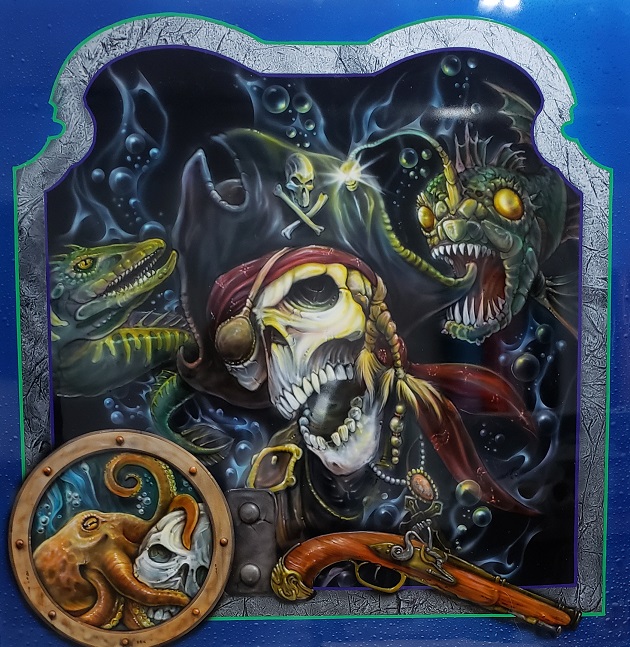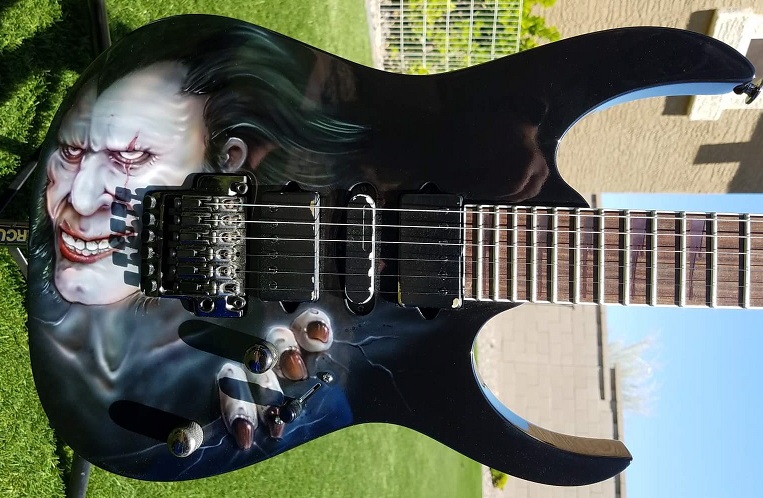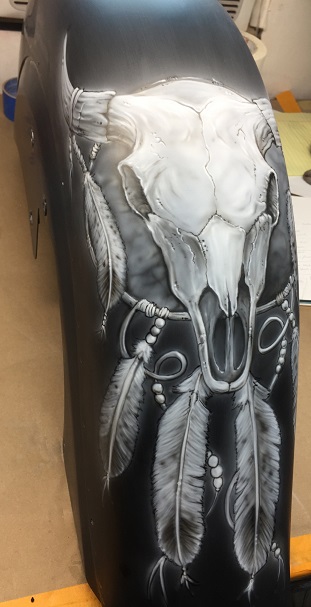 Original Art, "Ghoul King" on 18" x 24" Steel Panel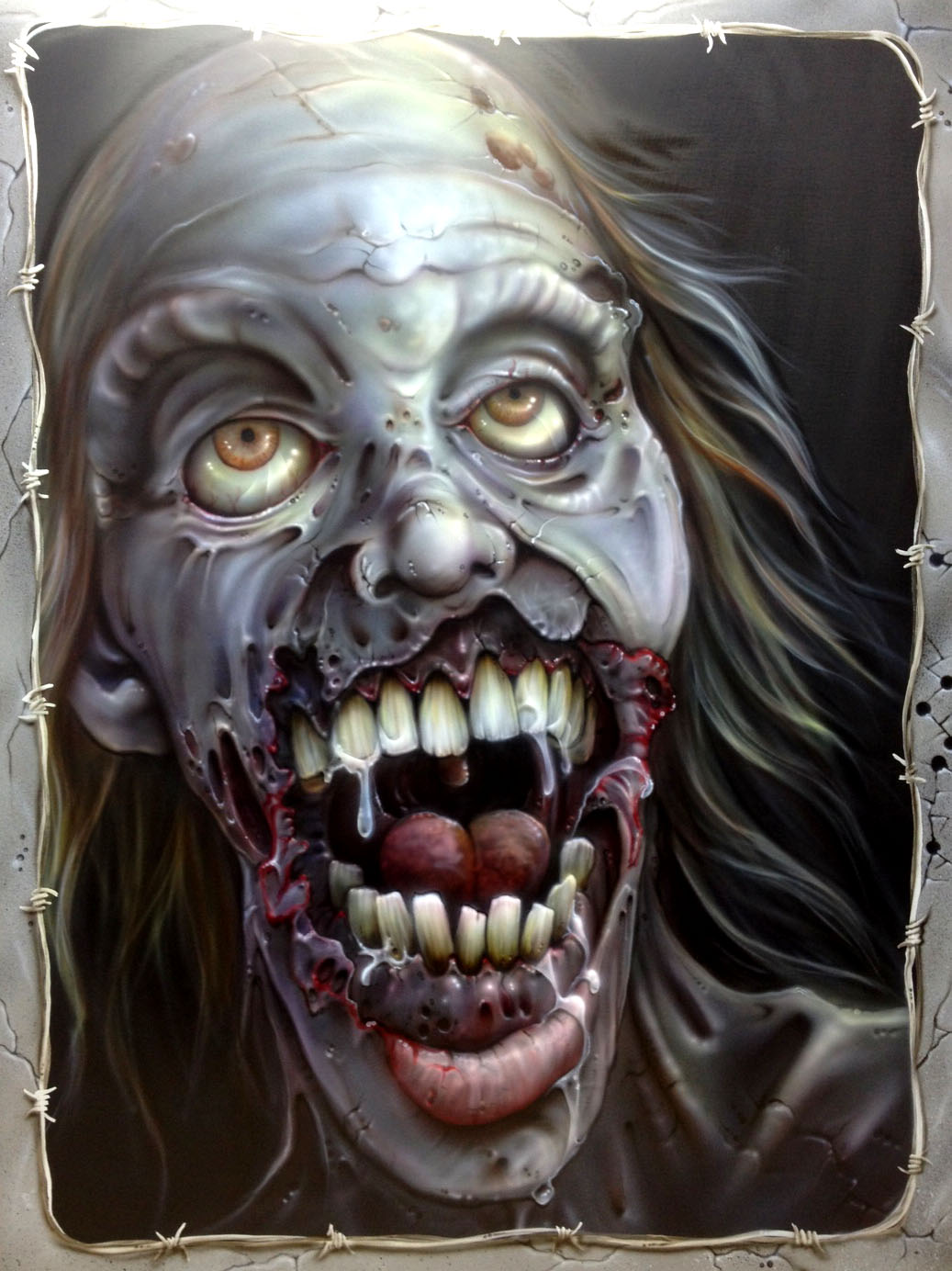 This Panel has NOT been cleared yet! ZOMBIES! On Steel 18" x 24"
---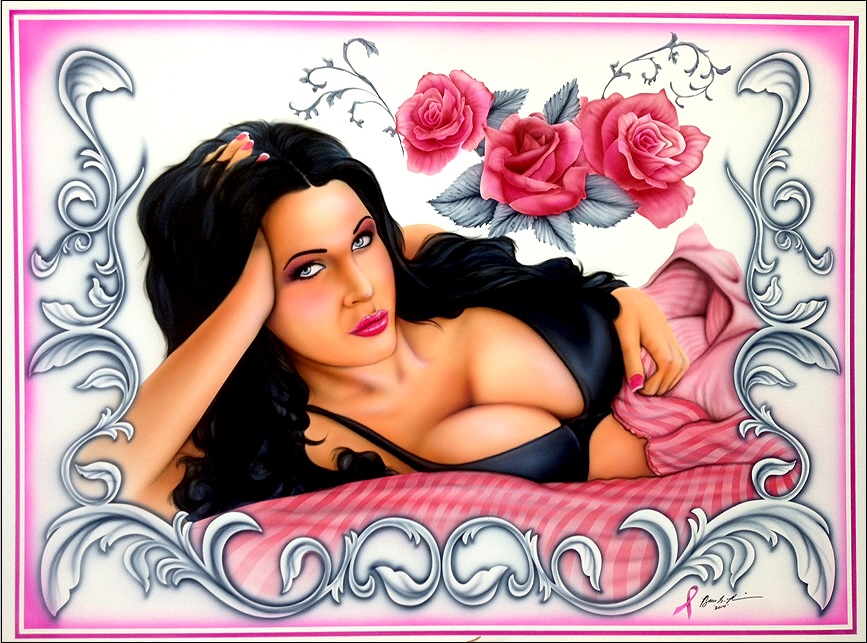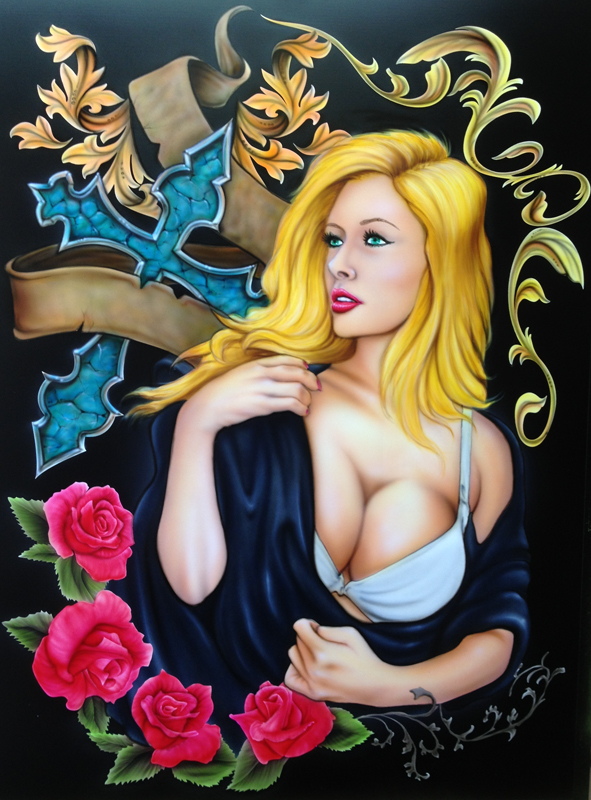 Here's a couple of Panels I've done on 18' x 24" steel. Just to show what I'm capable of!
Remember, if you don't SEE it...doesn't mean I can't DO it! If you have an idea
for your bike or project, let me know! I can do anything!
---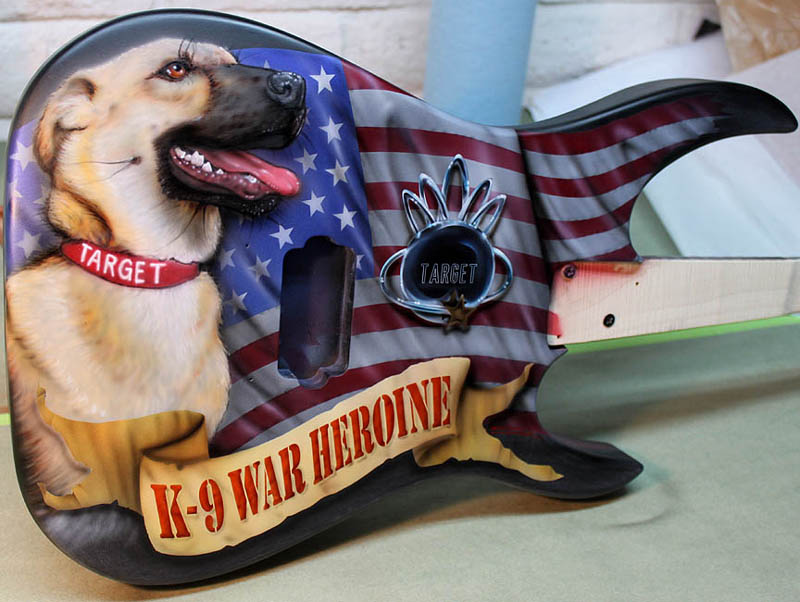 I was asked to donate the artwork for a guitar which was presented to one of our Servicemen,
who served in Afghanistan. It seems that his platoon had adopted 3 stray dogs who roamed the area
they were assigned to. One of them the local Afghan military used for Target Practice. Hence her
name, "Target". One night as the platoon was getting ready for lights out, the dogs started barking,
and when everyone looked up, a suicide bomber stood framed in the door, but the dogs were attacking him.
He prematurely detonated, killing one dog, and wounding Target and the other dog. No soldiers
were killed. Target and the other dog were nursed back to health, and eventually, the dogs were adopted
and relocated back to the US. Targets new owner, who had nursed her back to health, lived here in Arizona.
Unfortunately, Target got out of the yard and was picked up and placed in an animal shelter. The owner
found her online on a friday night, paid the fine online and was going to pick her up Monday morning.
A shelter worker on Sunday grabbed Target by mistake, and she was euthanized by accident.
A tragic ending to a Wonderful Dog who undoubtably saved many American Lives. The Guitar
was built by Paull Wulffson of Wulffson Customs and with my artwork,
presented to Sgt. Terry Young, in Targets' memory.

---
I like to do fine art when I can. Which is to say, NOT very often! Sometimes, it's not on a canvas, but
something useful, like a file cabinet! If it's got a surface that's not all bumpy, I can paint it!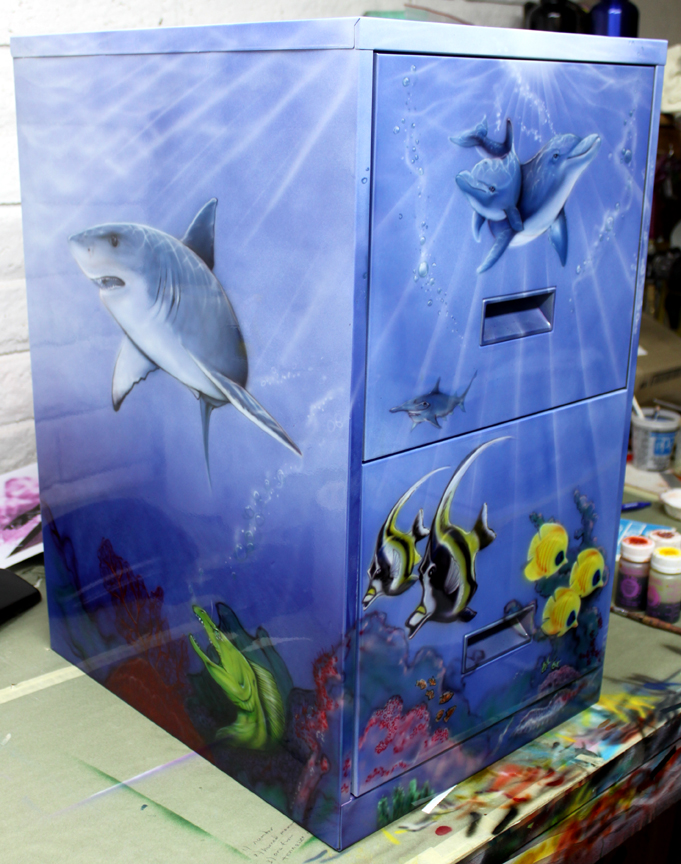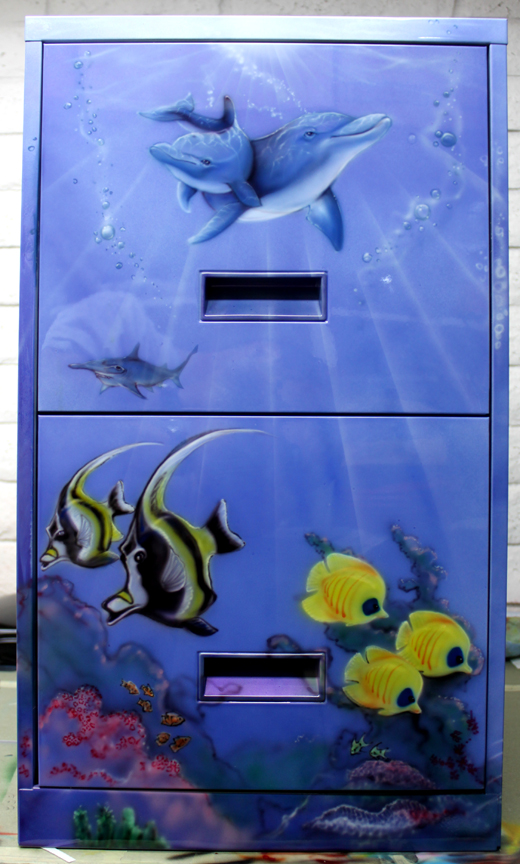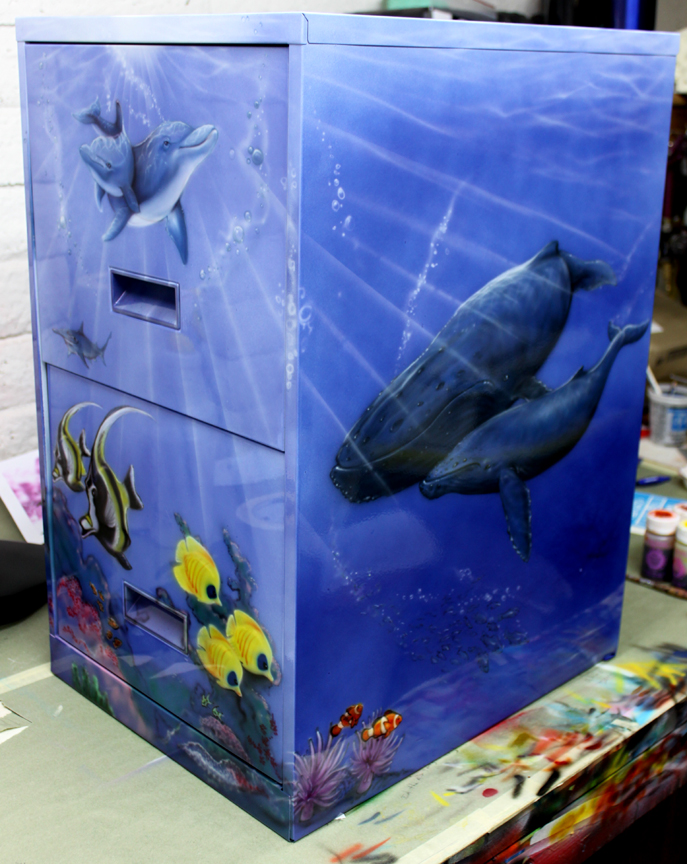 My wife won't let me have an aquarium. I loved our trip to Hawaii and Snorkeling. So the next best thing was to
take my old beat up file cabinet, the one I never used, and PAINT it! Now...I use it all the time! All free hand
airbrushing with automotive paints, and then cleared. Didn't buff it out. I mean...it's just an old file cabinet!
But even so, people seem to LOVE it. So if you want to spruce up a business or home office, give me your ideas!

---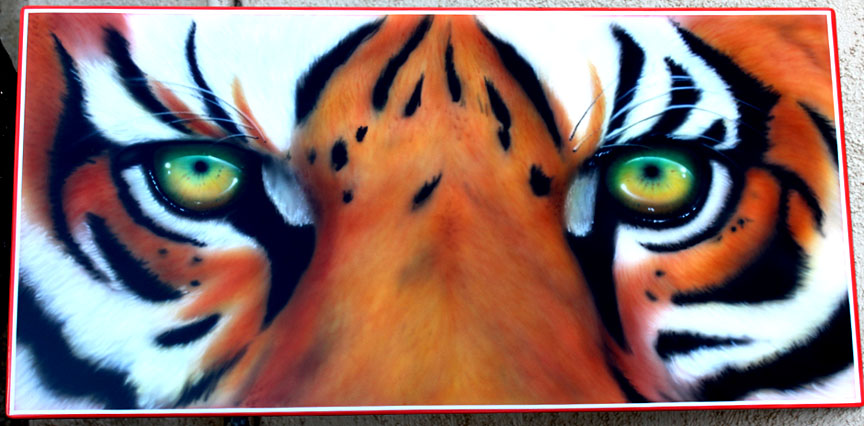 I love tigers. On this piece, i wanted to focus on the eyes. Eye of the Tiger...Yeah??? Hair is difficult and takes ALOT
of stroking in several colors to make it work. In the eyes, multiple colors and reflections. Seems to be staring right at you!
---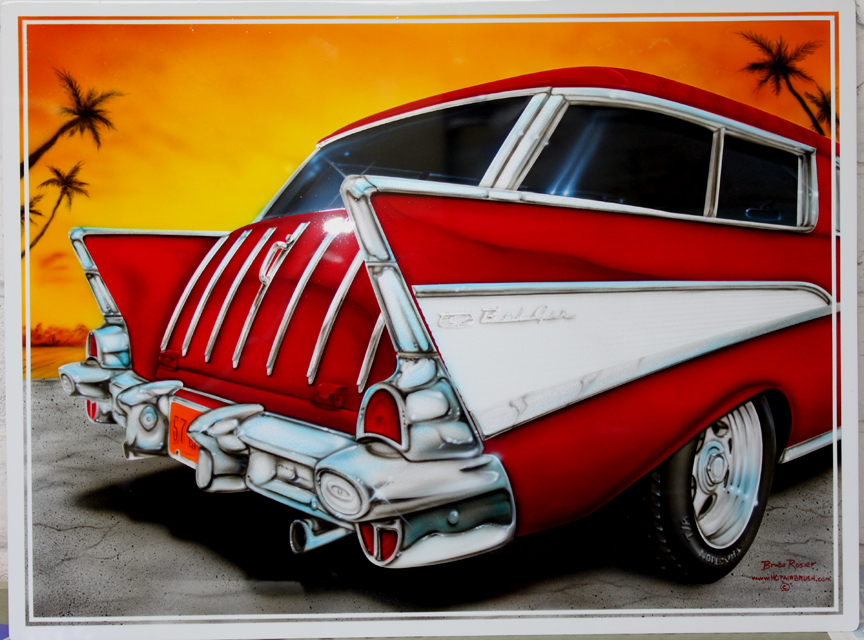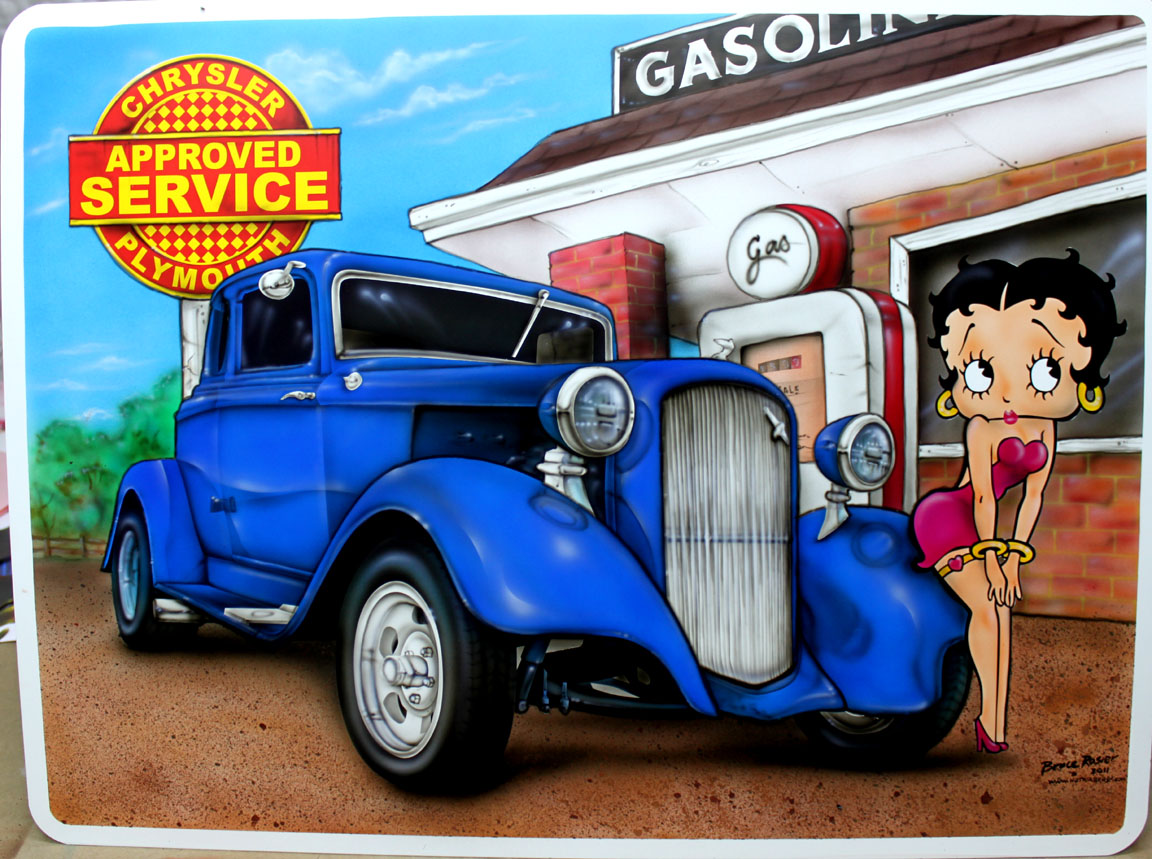 Car panels are another thing. If you give me a picture of your car, and what you want, in this case: Betty Boop on fender, I
can paint it up for you. Guys love this for their garages or "man caves". I could spend an entire week on these but for cost
affordability, I can't. These car panels sell for between $200 and $350, depending on the details. You could spend more,
and REALLY make it a work of art, but most guys are happy with this level of detail.

---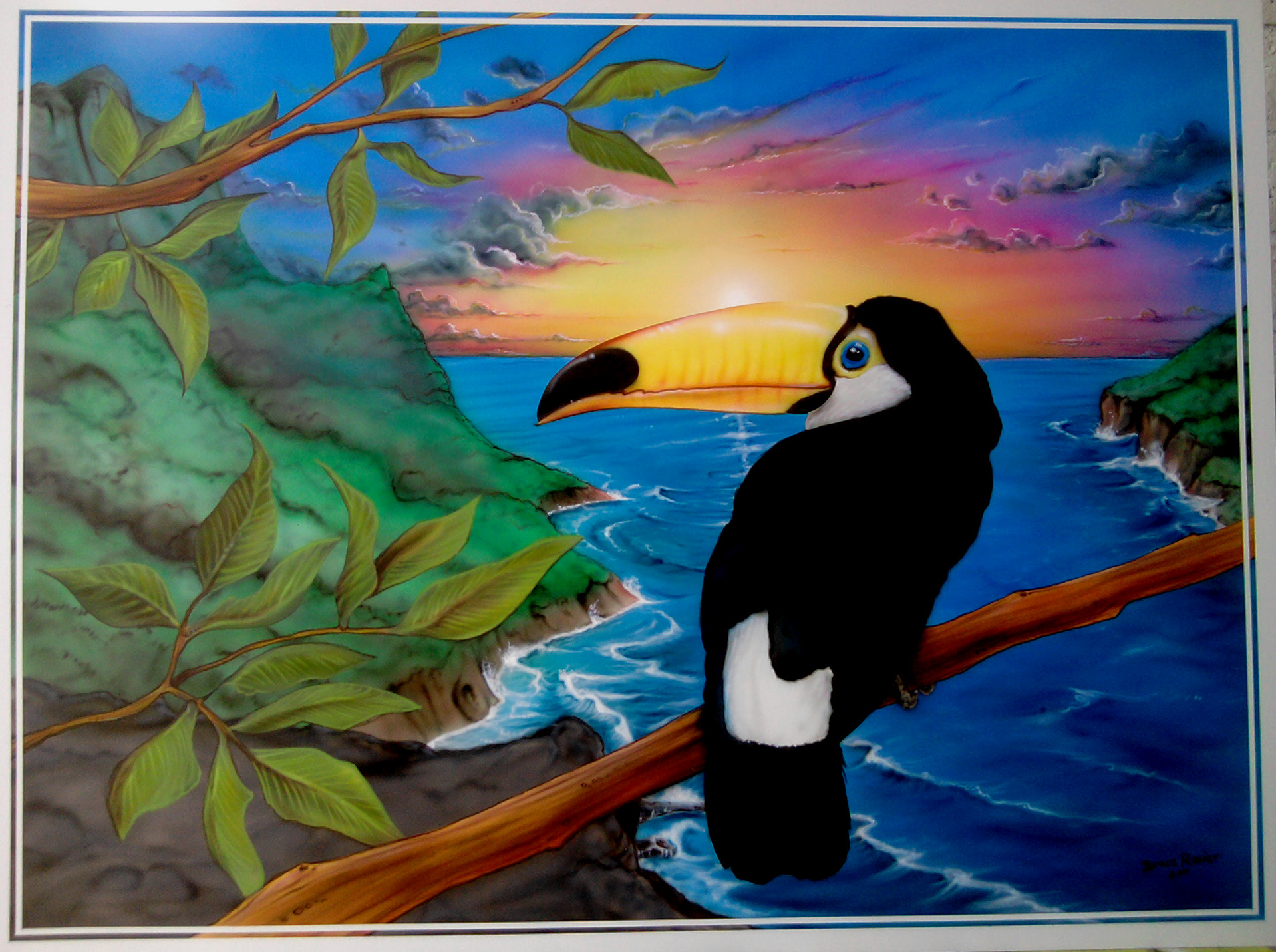 Another Gift idea for someone who LOVES Central American Vacations, and wanted to hang a reminder on the wall.
I can do "requests" like this on panels 18" x 24" for around $250.


---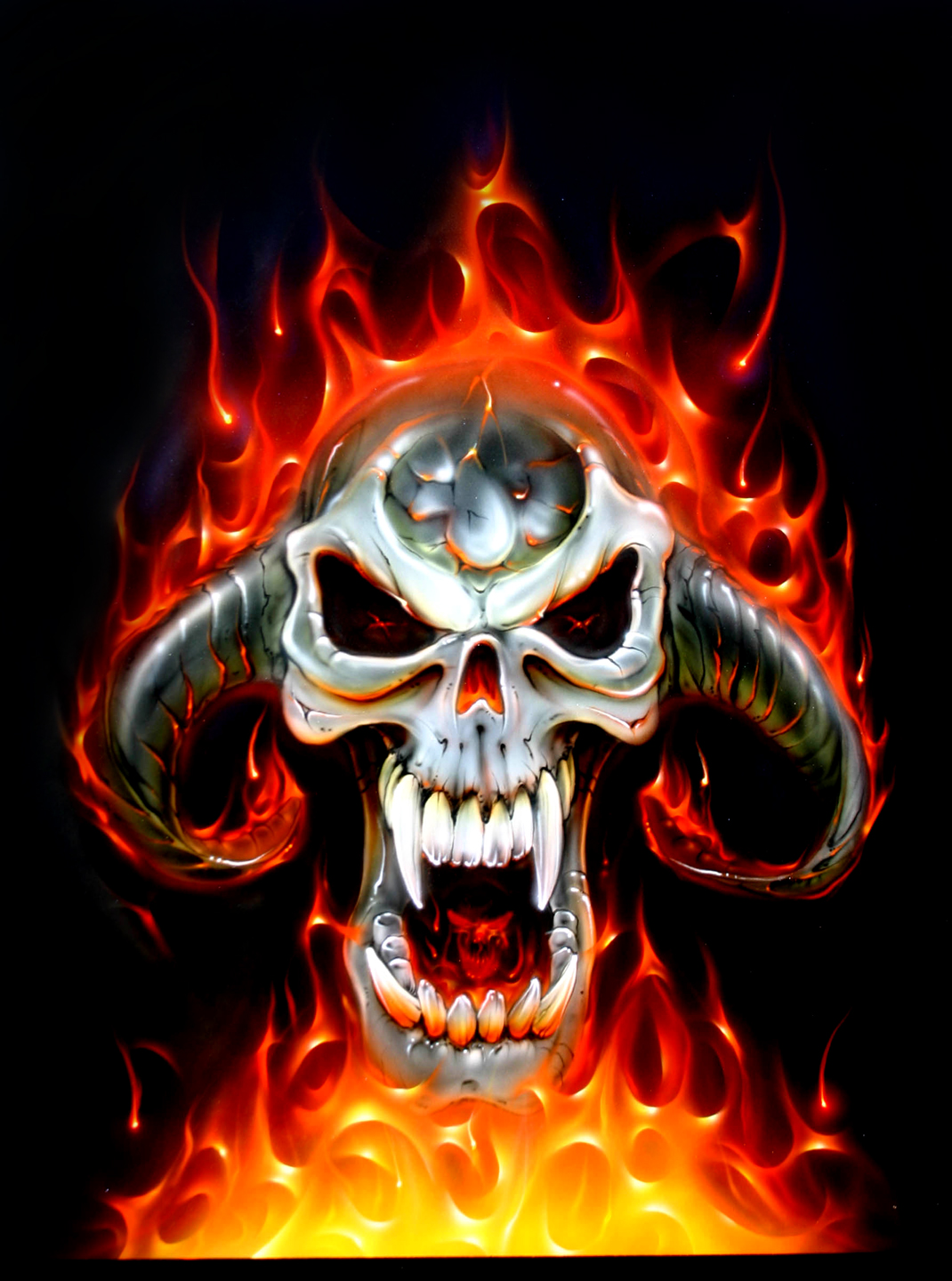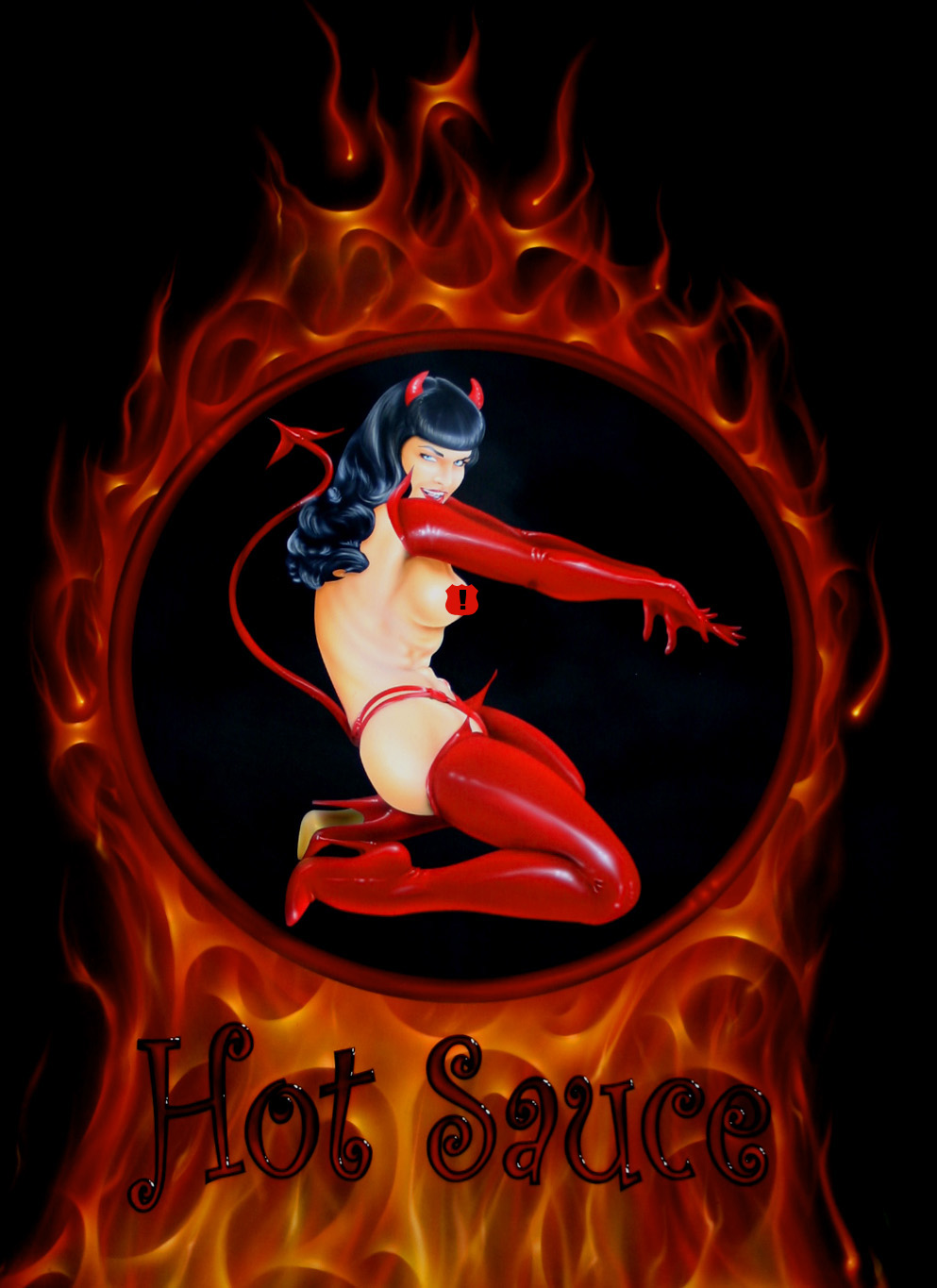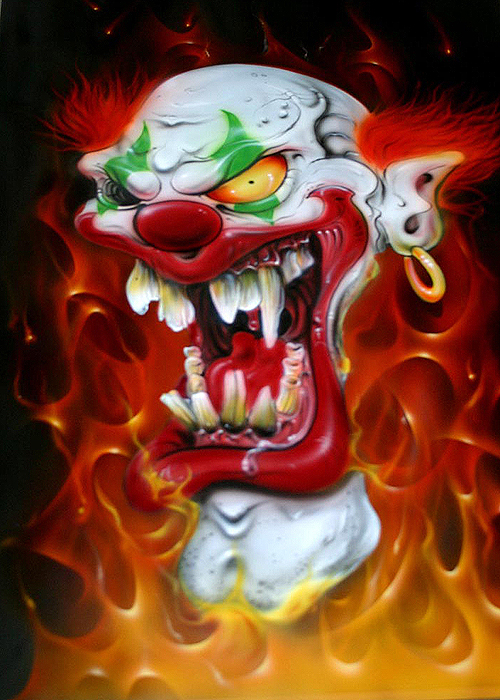 Some Panels with Real Fire Backgrounds. Always good as gifts or hanging in Man-Caves, Garages, Where-ever!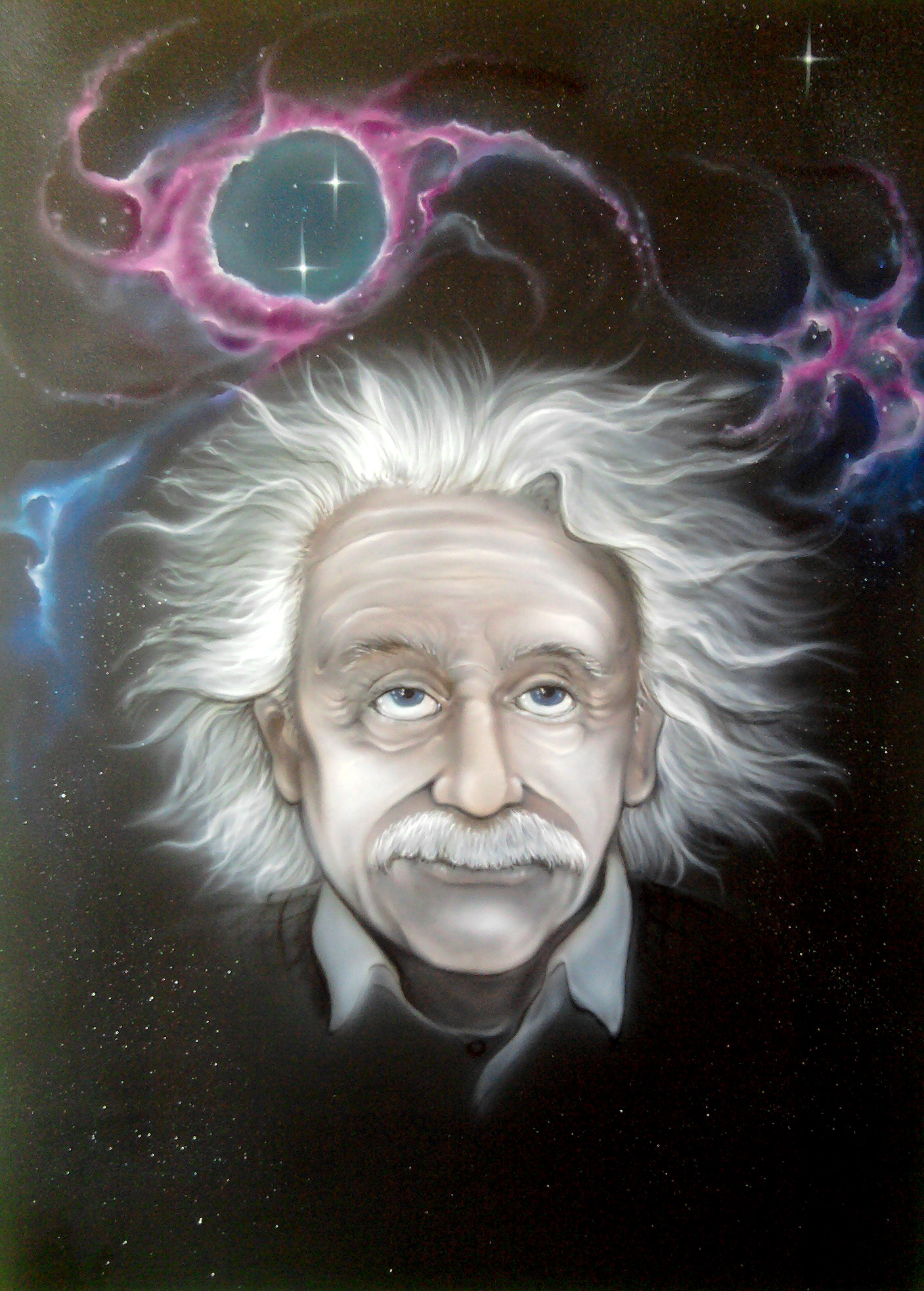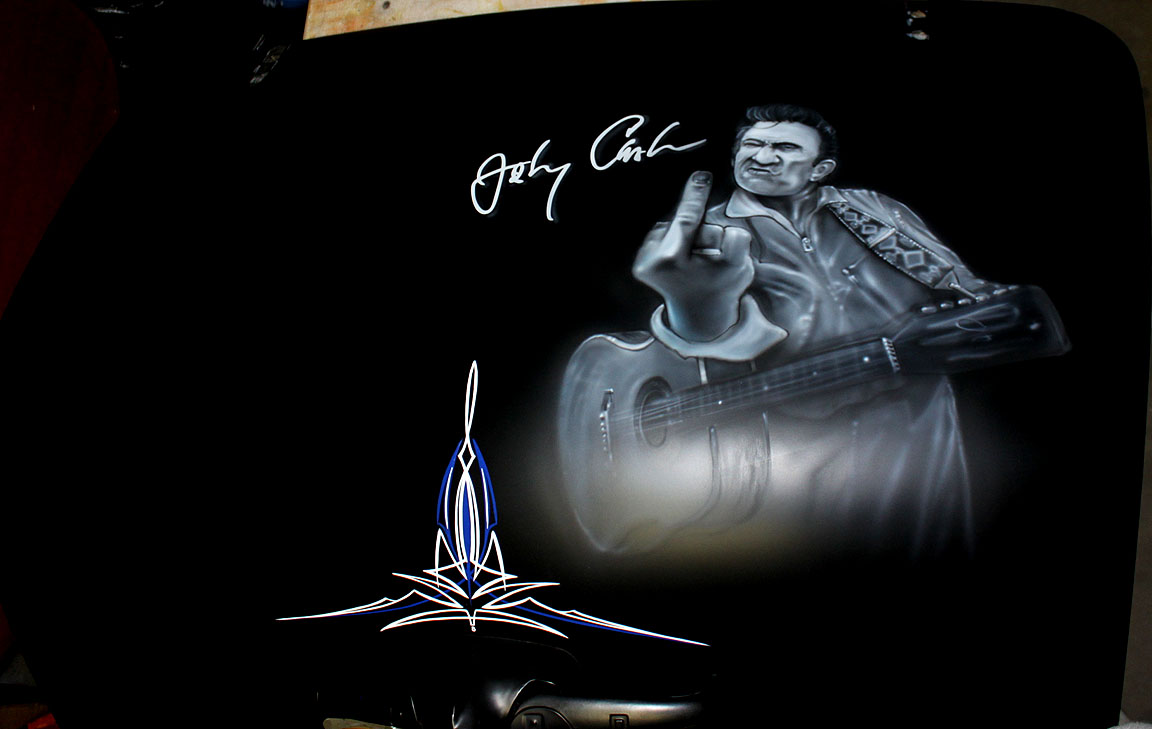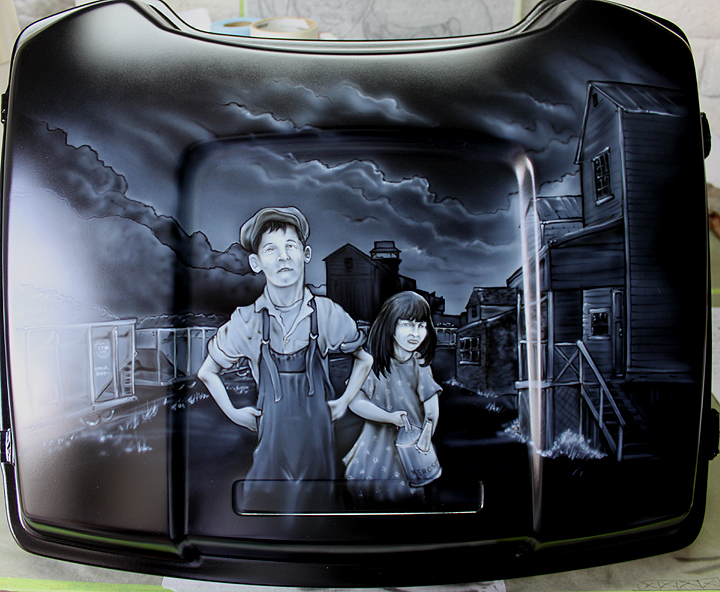 More examples of artwork, people on various parts and panels. My favorite Scientist, Albert Einstein on a panel.
Also Johnny Cash on the back of a Rat Rod Tailgate. And a Tour pak lid, depicting kids growing up in a Coal Town,
somewhere in West Virginia. That whole bike was done with Coal Miner Scenes and Theme as a tribute to the
owners Father, and Grandfather, who both worked the Coal Mines of West Virginia. The kids symbolize the future
of the children, looking out. Does there future hold something different? Or are they destined to live the same lives
as their fore-fathers, tied to the town and traditions of the past. Who knows?

---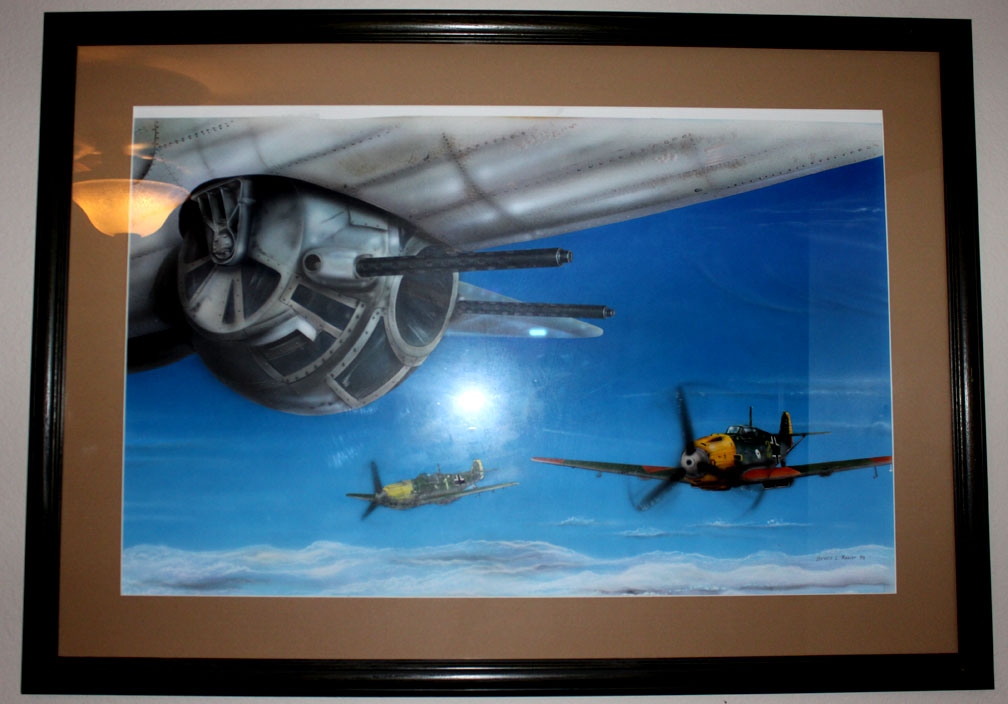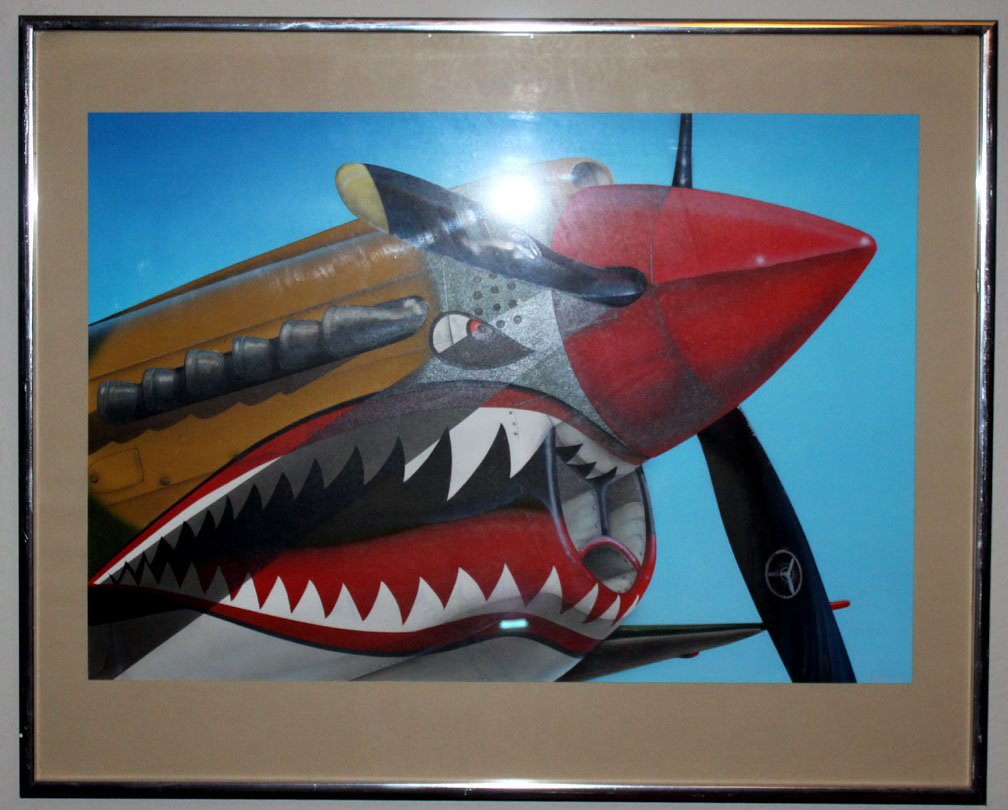 I love fine art too. WWII aviation is my big interest. Never have alot of time to do "Framed Art" type work!
---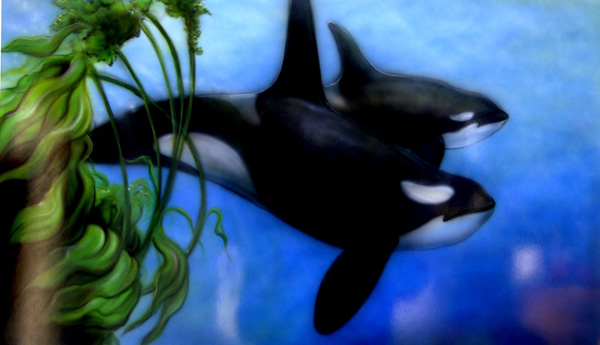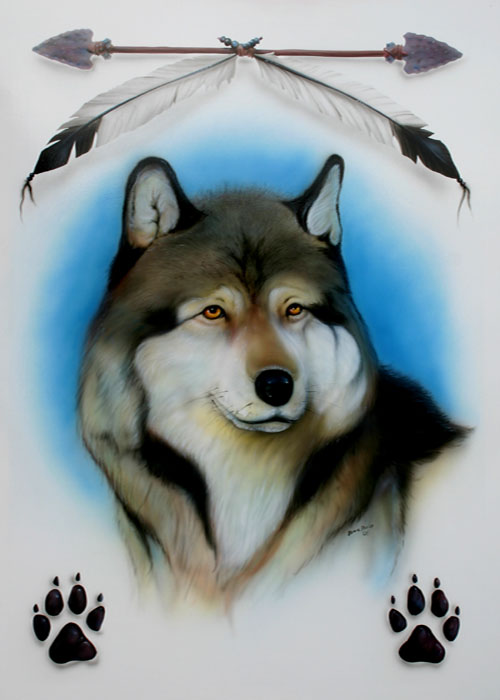 More aluminum panels with automotive base and clear-coat.

---
---