LETTERING
With over 20 years experience as a Sign Painter back in Buffalo, NY, and as a Graphic Artist,
I can come up with some pretty NICE lettering effects. If you want the wing of your Sandcar
done up with your favorite phrase or Handle...If you want tricked out lettering on your Hot Rod...
Or your tailgate lettered up. Or even if you need a sign, I can do it up for you!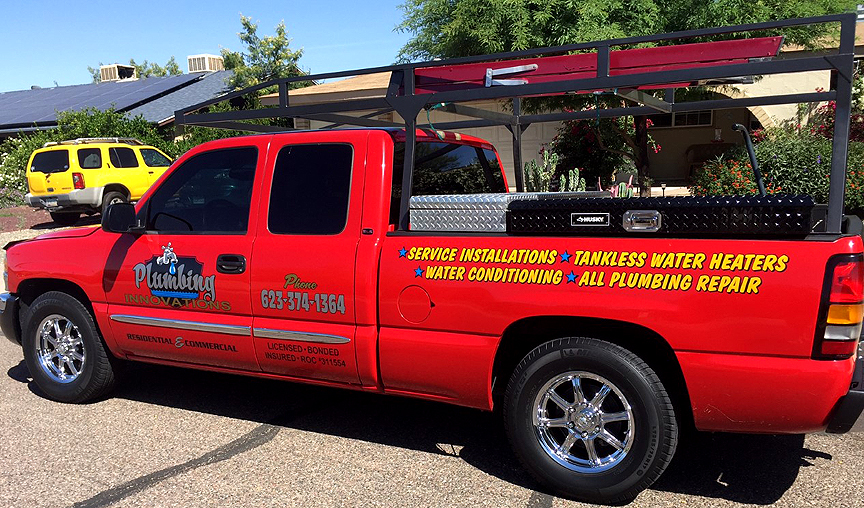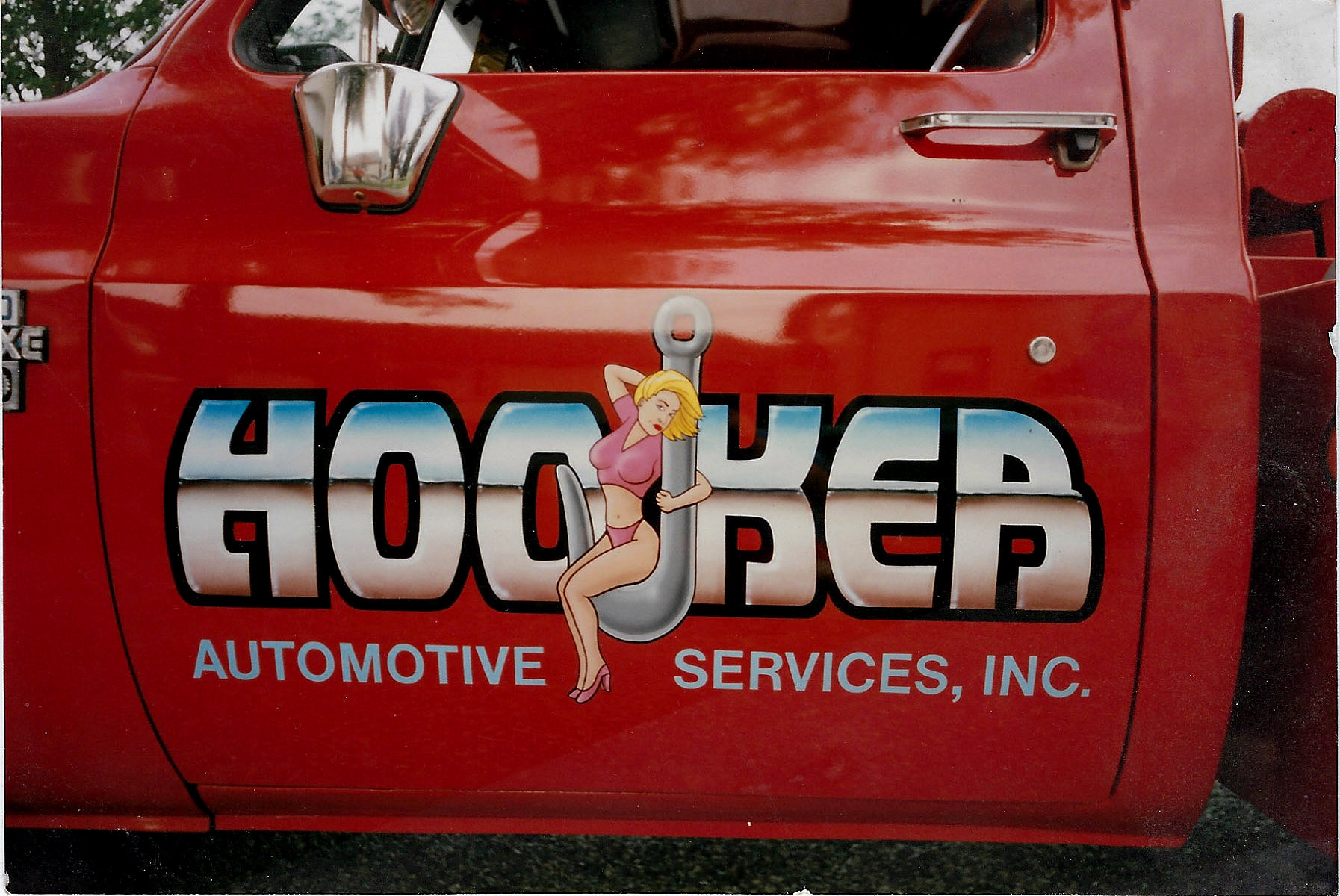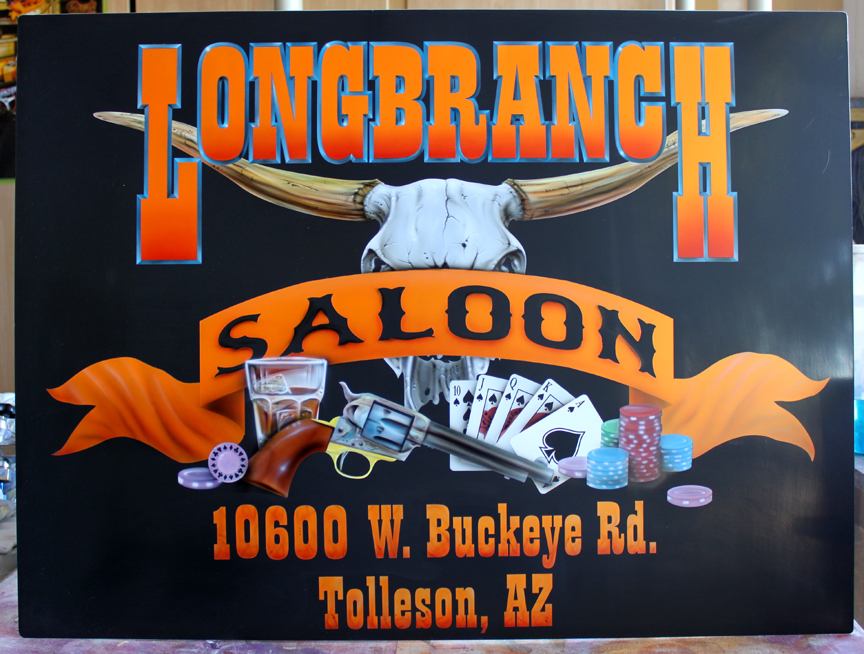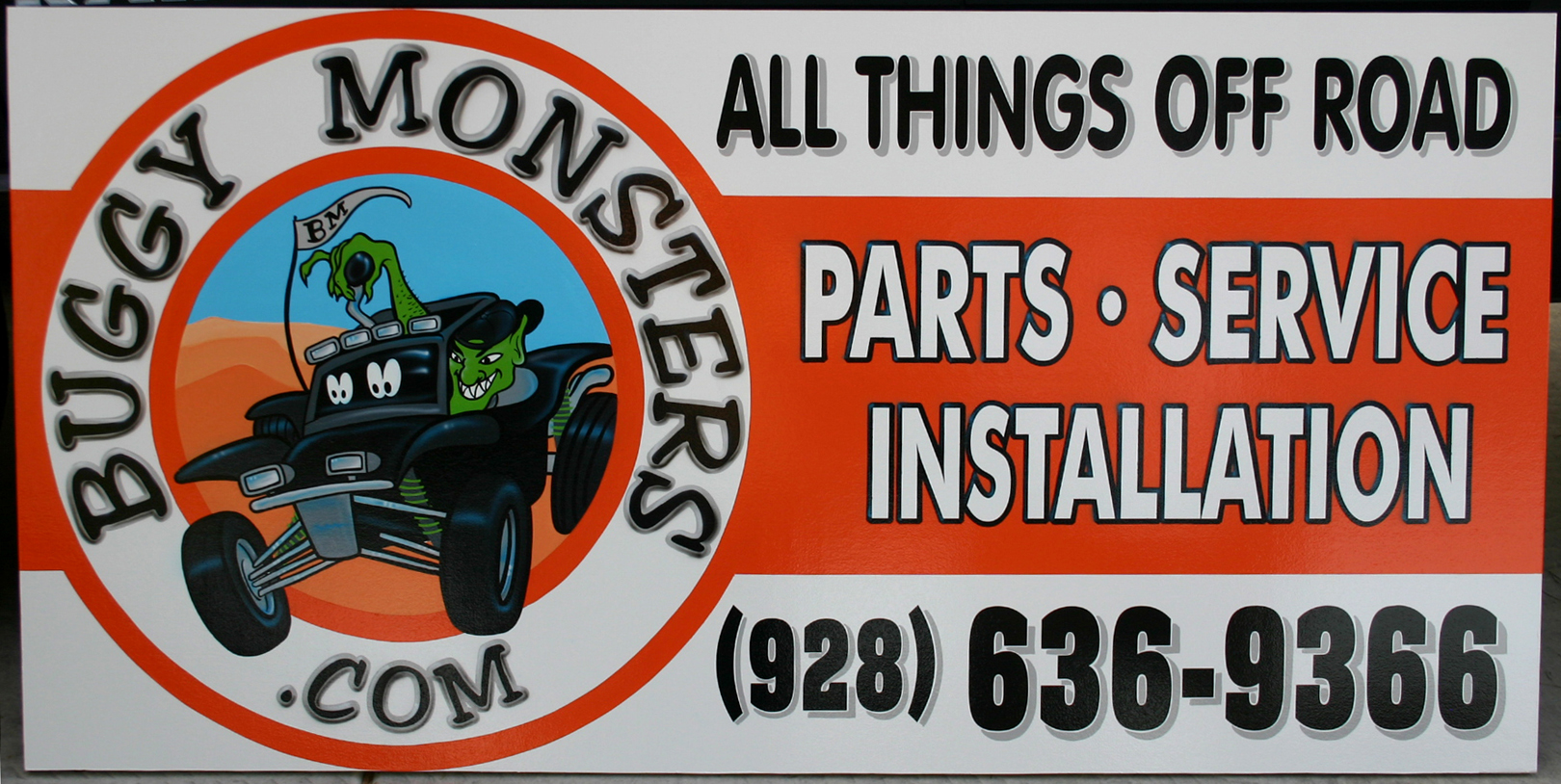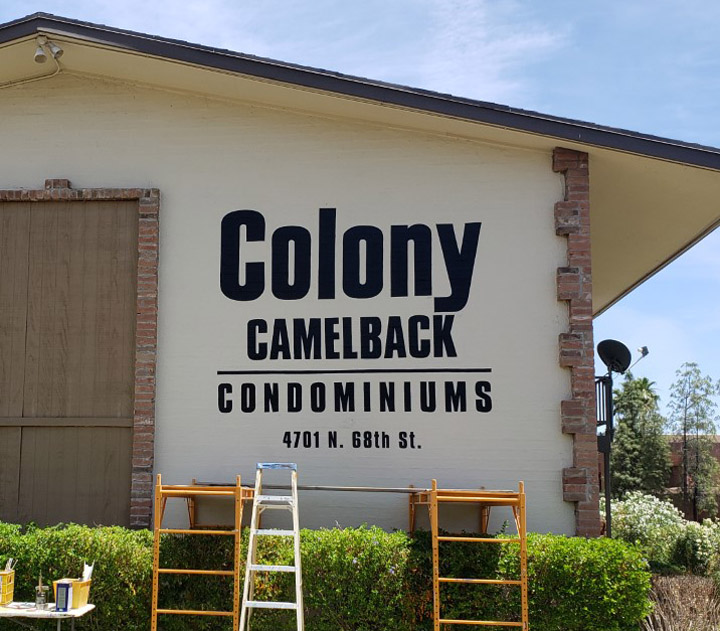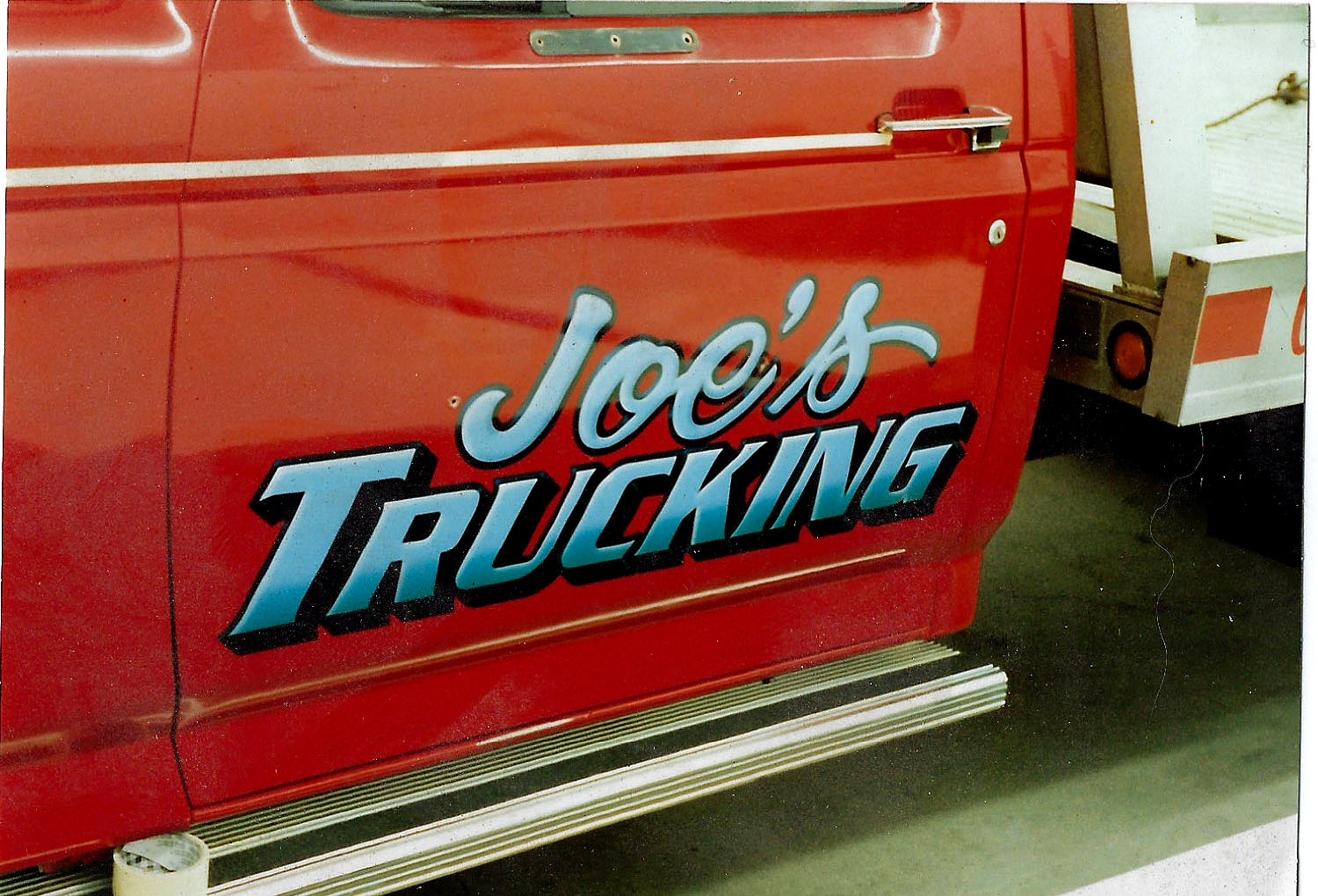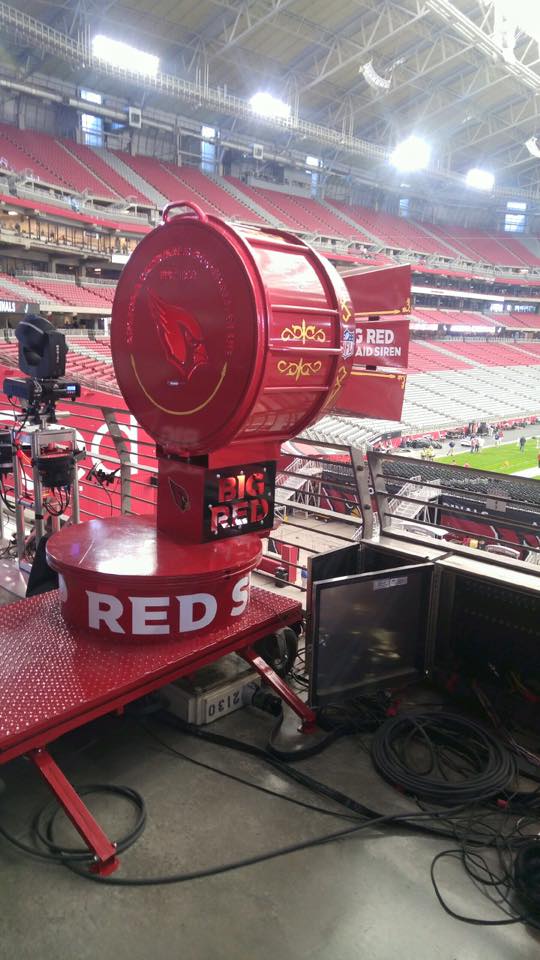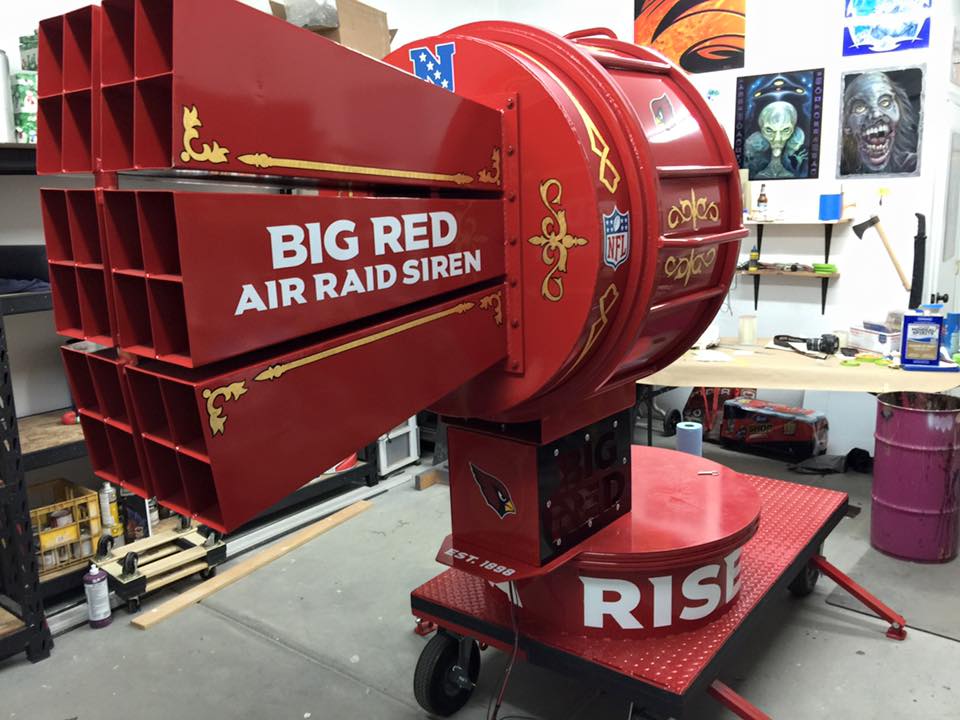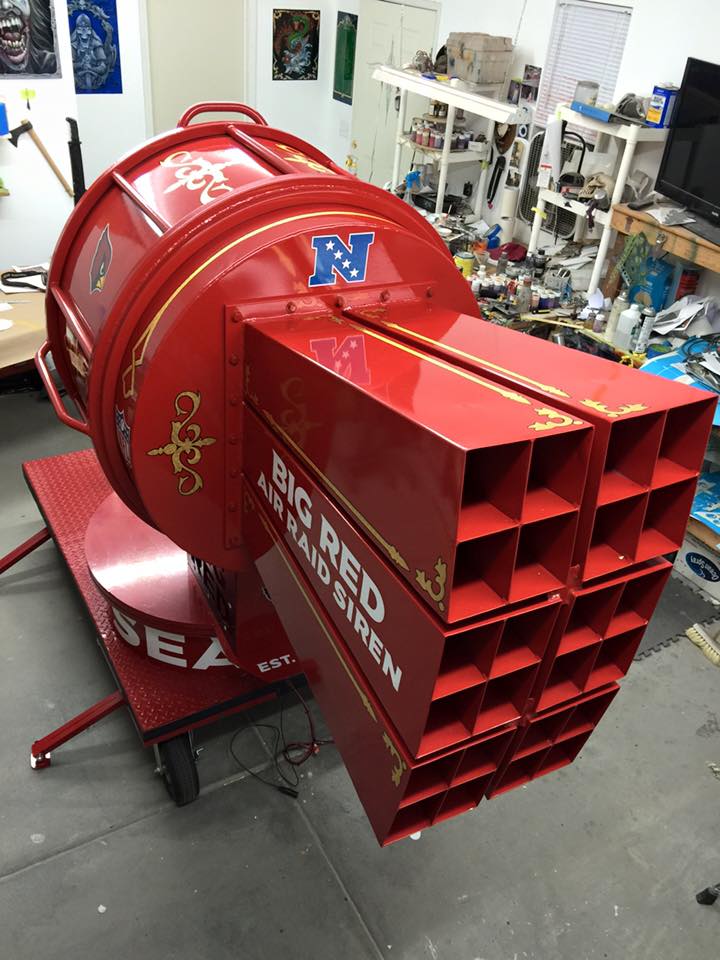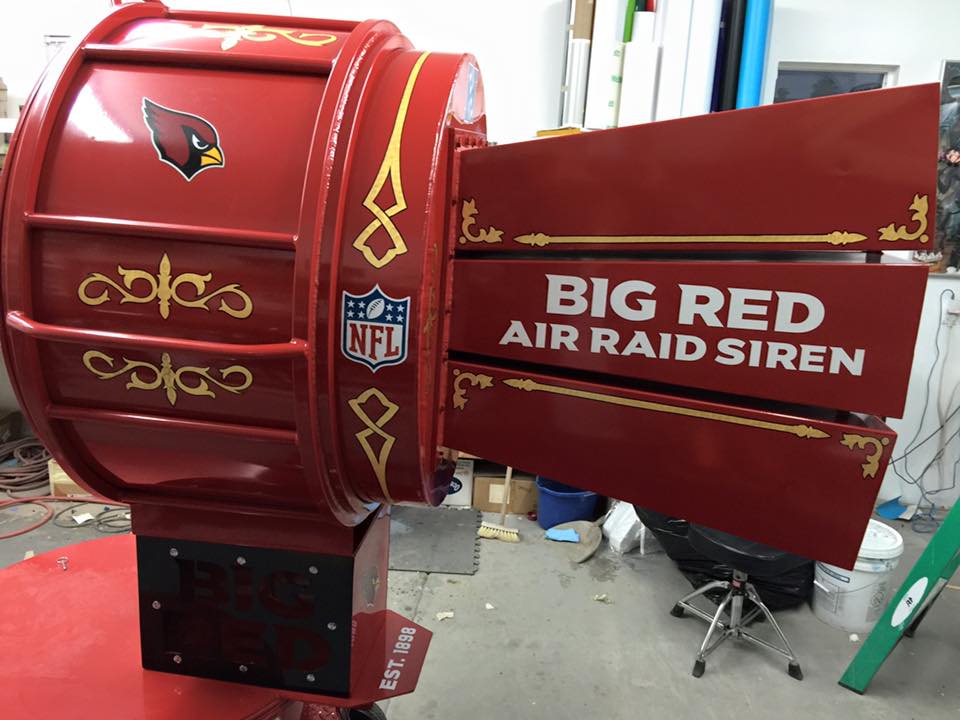 The Arizona Cardinals gave me a call. Seems they wanted to "Jazz" up the Air Raid Siren they set off
at the beginning of every game. Built from scratch, this Siren was powder coated in Red,
but had Nothing on it! NO lettering, no logos, just the back was laser cut. So I did it all up
by hand with 23K Gold Leaf. Hand-Spun, cleared with Spar Varnish, and Pinstriped.
Just like the Fire Engines I used to do back when I lived in Buffalo, NY. Pretty awesome deal!

---

This is off of the wing of the STAR WARS, Darth Vader theme Sand Car. This is custom,
completely design-by-me lettering. You can see the FORCE emanating from behind the letters!
---

Here is the back of another Sand Car done thru CRDesigns Custom Paint. Here, we have a beveled
edge look letter, with a nice fade. The background is on fire, but not enough to make it unreadable.
This wing has not been cleared in this photo!
---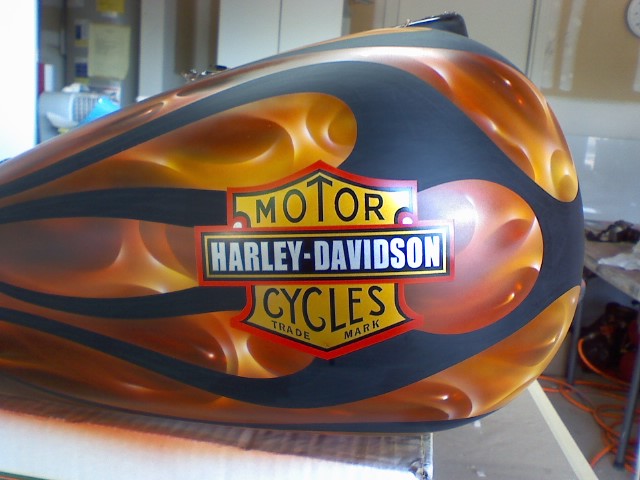 This is Harley-Davidson's ORIGINAL logo. The customer wanted it to be painted on, NOT
a sticker! All that's left to this tank is the pinstripe and the clear-coat!

---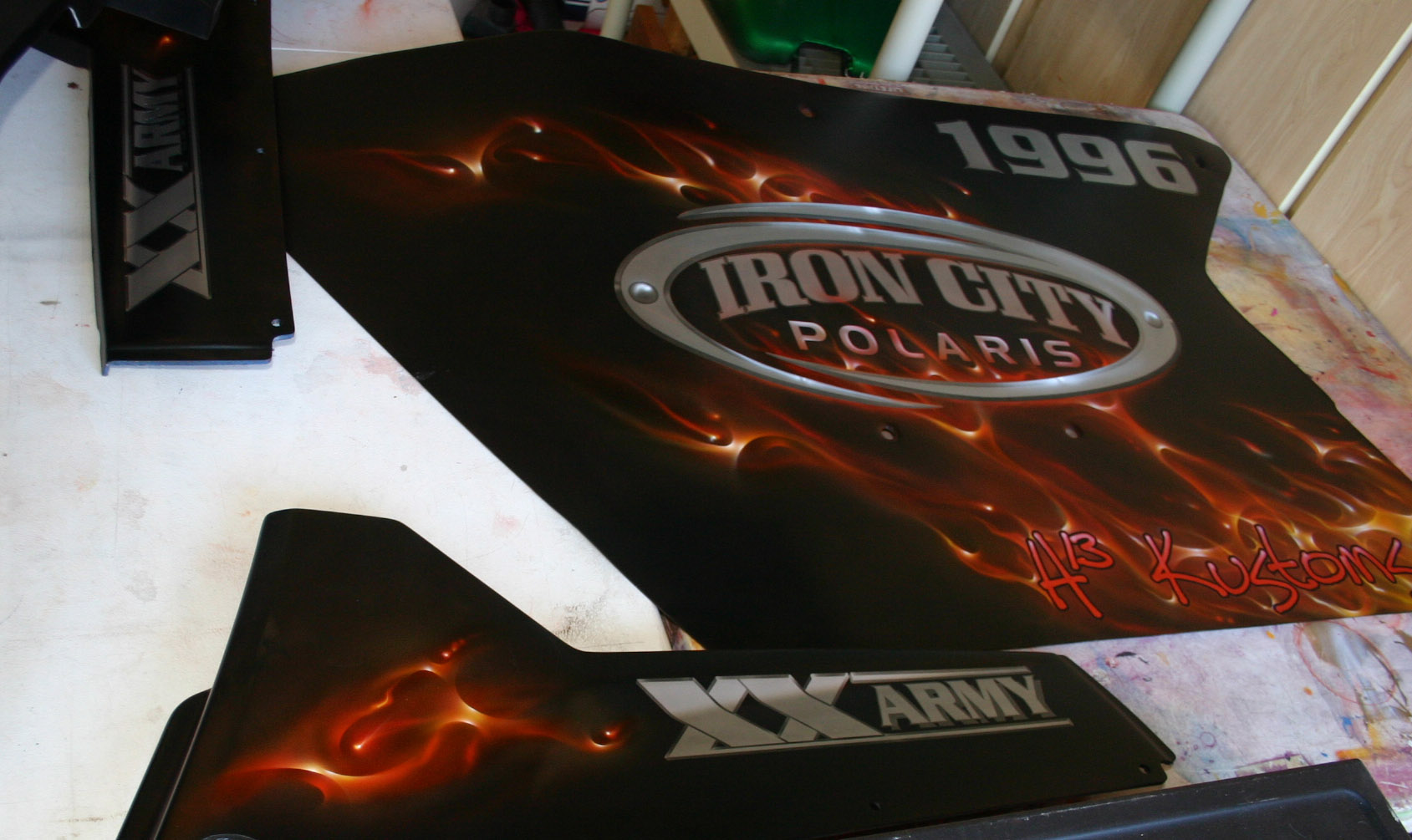 This job was done for H13 Kustom Paint in Phoenix. These panels are off of a Polaris RZR.
I designed the XX Army logo for them, and did up H13's name on the bottom. Russell at H13
did all the base and once he got these panels, did the clear and final buff.
---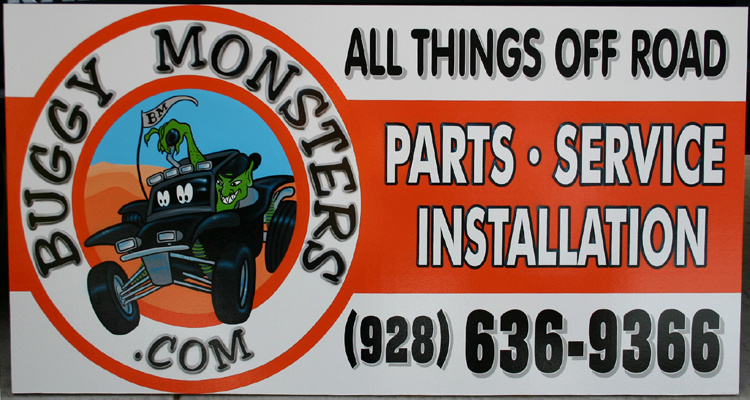 Here's a MDO signboard Sign for a shop up in Prescott. I have a Computer and Vinyl Cutter,
so making signs and letters is not a problem if you need business identification.
---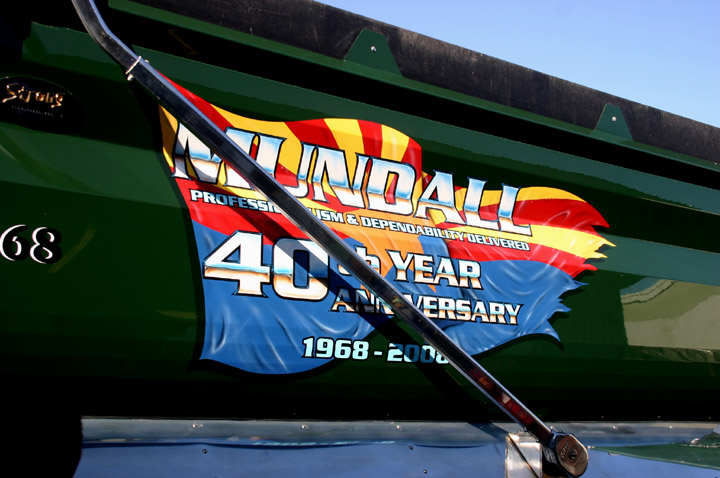 This Arizona Flag and lettering was done on the side of a tricked-out Super Dump Truck!
Believe it or not...all of this is Hand-painted with One-Shot lettering enamels. While the paint
is still wet, it's airbrushed and shaded. Even the lettering is done with a brush! Rockin' it Old-School!
Click on the Picture to see more of this amazing Rig!
---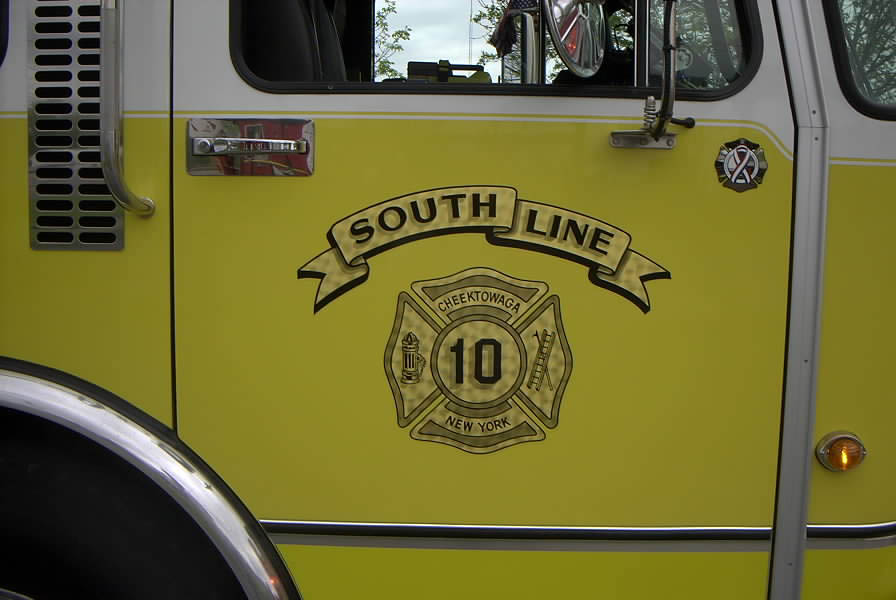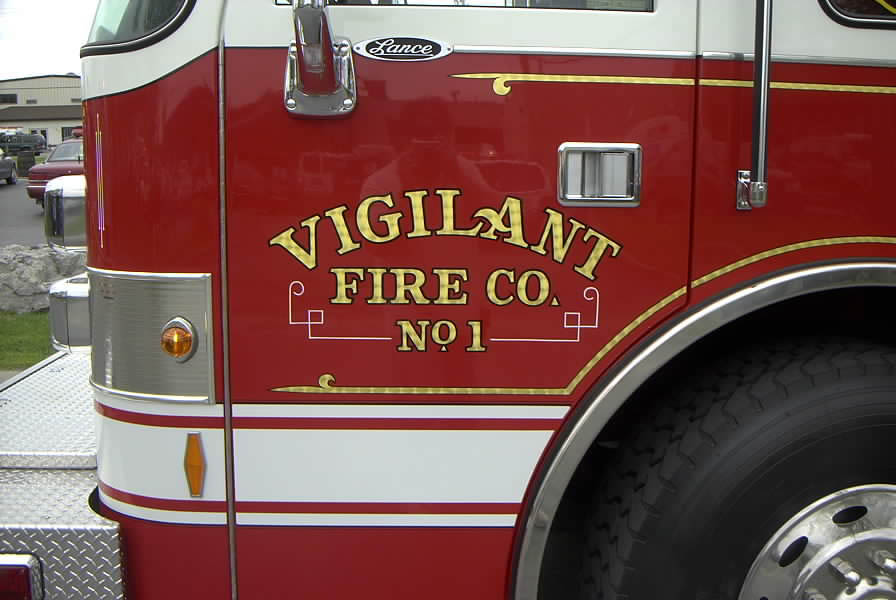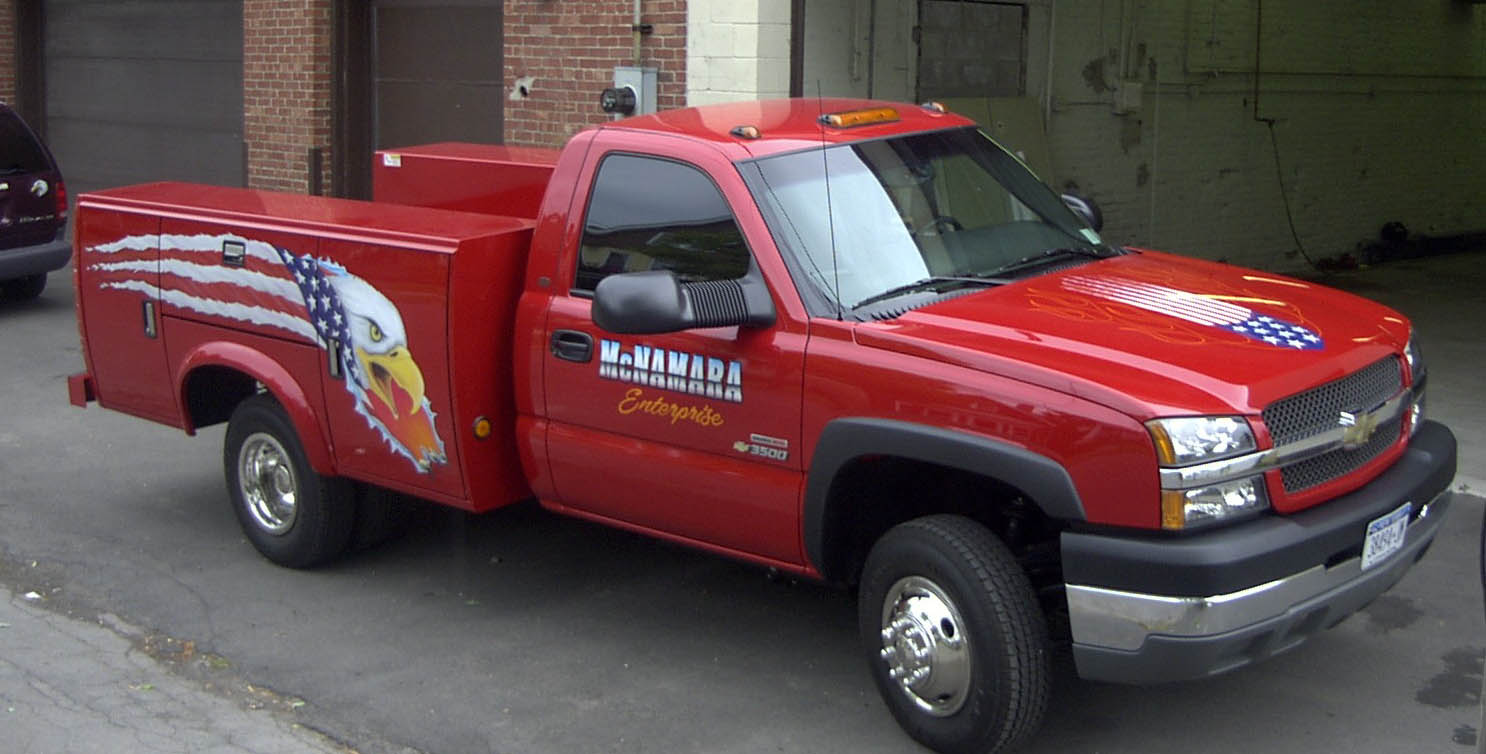 Here's some of that work I did back in Buffalo, NY. Gold Leaf on Fire Engines. We're talkin'
REAL Gold Leaf, not that fake lookin' Vinyl CRAP! The above Utility Truck was all hand-painted
with One-Shots and airbrushed. NO CLEAR COAT! Pinstriping, Lettering, and airbrushing...
all done by me by hand. This work was typical of what I did for over 20 years back in NY.
---