9-11 Memorial Bike
Wayne "Frenchie" LaTourette approached me about painting his 2000 Ultra Classic. The Bike
was originally Sinister Blue. He wanted to have the Bike Painted a Fire Engine Red, and
then have artwork paying homage to the fallen heros of 9-11, the World Trade Center Attack.
Frenchie was a NYPD officer for 5 years, and then a Sanitation Worker in NYC for 25 years
so the attack had special meaning for him. He's currently a Volunteer with the Newfane, NY
Miller Hose Fire Company. He's a Vice President with the Red Knights NY-4,
and a member of the Niagara County H.O.G. chapter.
Frenchie is also a Life Member of the Duchess County Firepolice Association.

Together we came up with some layouts and the overall design of the bike. I came up with the idea of
making the Bike look like an actually piece of Fire Apparatus, and painted Faux Diamond Plate along
the bottom of the Bike along with Real 23kt Gold Leaf, hand-turned pinstriping, Gold Leaf Fire Crosses,
and Hand Lettering. For artwork, I came up with references of Firemen, Police Officers, and actual
vehicles destroyed at the World Trade Center site. Realistic flames come up off the Gold Pinstriping
and surround the artwork. Two Firemen, and a Police Officer are embracing, flanked by angels on the
Fairing, along with vehicles destroyed or damaged by the attack.
This bike project became a "mission" with me. The more I researched the WTC attack, the angrier I got.
There are websites out there debunking the tragedy of 9-11, some claiming there were no planes, and
that our own government planted bombs which blew up the Twin Towers. The more I read, the angrier I got,
and it became not a question of money, and how much I was getting paid, as much as how much I wanted
to poor my heart and soul into this bike, as a tribute to the real hereos of that fateful day.
Frenchie, got WAY more than what he was expecting. This bike became much more than just another
paying job to me. This Bike became my own personal mission, and I sincerely hope that with my
talent, I was able to do some small part to show the world what happened on 9-11-01.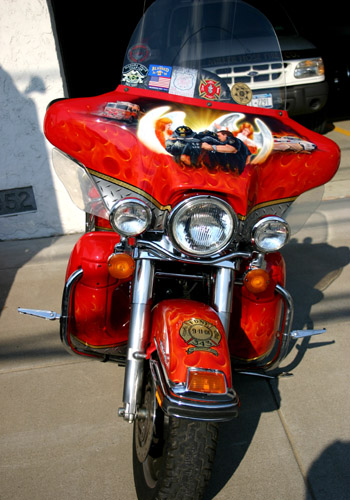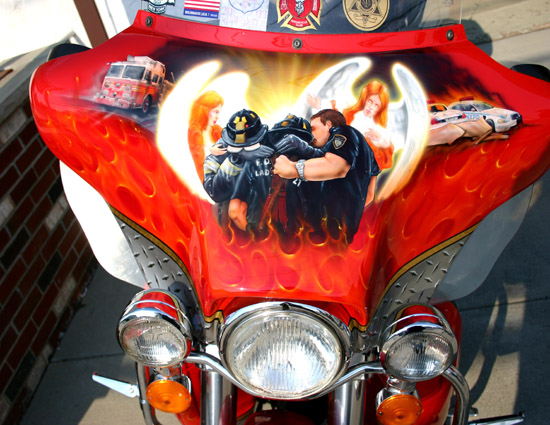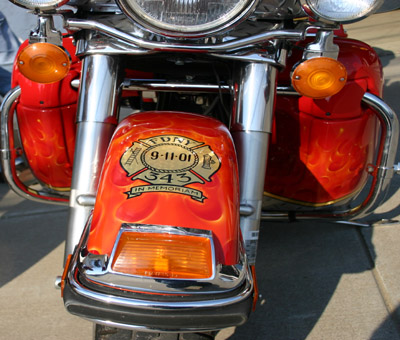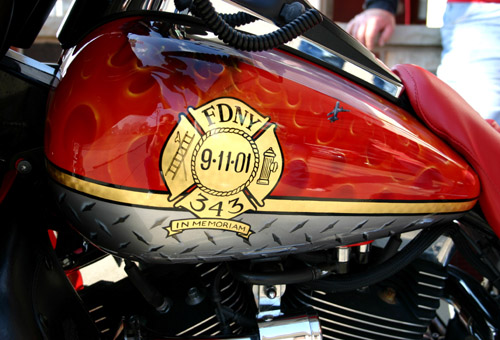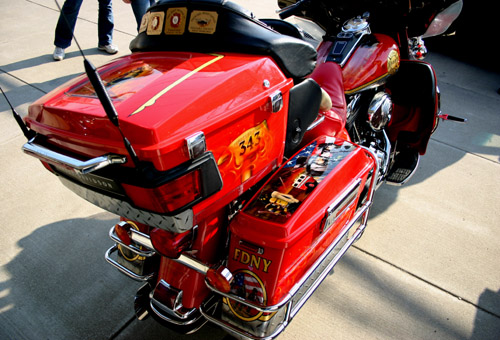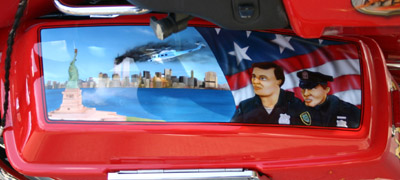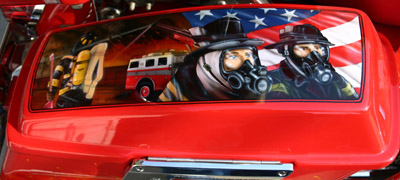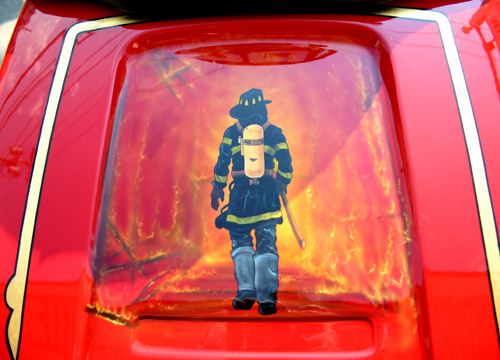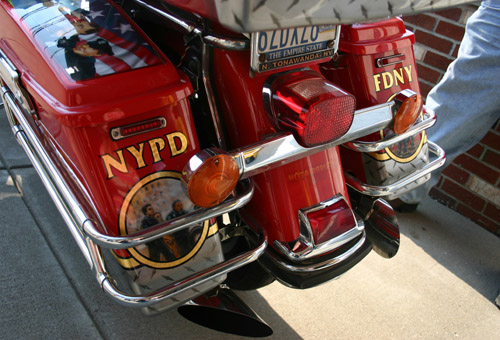 ---